It is my contention that one of the foundational problems with the conservative arm of the Christian church is a seriously problematic relationship with sexuality – you probably won't hear that from the pulpit at your church, though. This affects everything from the church's views on contraception and abortion to female leadership and gay marriage. Each of these issues is huge, of course, and deserving of in-depth discussion and consideration. That is not the intention of this post.
What I did want to point out is that the conservatives (mainly the Reformed conservatives) don't even know what they don't know about this issue. And I want to ask all of you who are willing to engage with discussions about sexuality (especially female leadership and homosexuality) to ask whether you're happy being in the same camp as Reformed conservatives.
look at Exhibit A: this photo: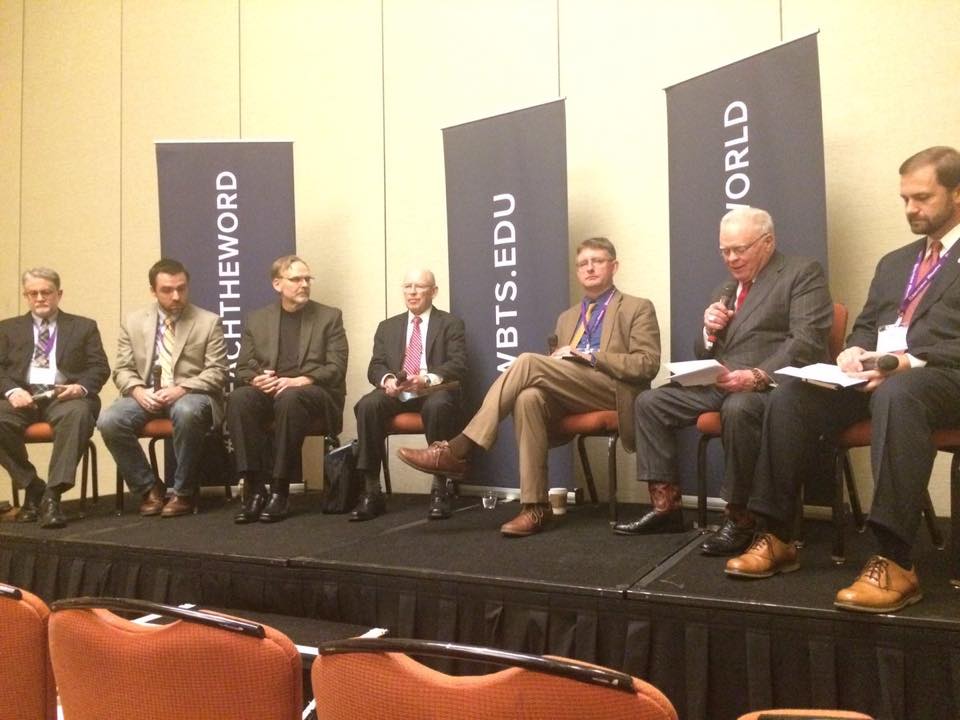 This picture was taken last week at The Evangelical Theological Society's 68th annual meeting in San Antonio, November 15-17, 2016. It was a panel discussion on the topic of "The Trinity and Gender". Participants were (pictured left to right): Bruce Ware, Matthew Emerson, Malcolm Yarnell, Wayne Grudem, Fred Sanders, Paige Patterson and Evan Lenow.
The whole conference was on the topic of the Trinity (largely in response to the work of Wayne Grudem over the past year or so – download the conference agenda here or here), and this panel was focused on issues of gender in light of these theological debates. The ETS describes itself as a professional, academic society of Biblical scholars, teachers, pastors, students, and others involved in evangelical scholarship, who serve Jesus Christ and his church by fostering conservative, evangelical biblical scholarship. Most of the members are Reformed as far as I can tell.
There were no female presenters at the event, and as far as I could tell, only four women included on any of the many panel discussions. That's four women amongst close on 200 men. But the photo above is everything that is wrong with Reformed Christians. On a panel discussion about gender issues there are seven old white men in suits and ties. What could they possibly say that would be relevant to the people they're talking about?
My mind goes to the organising committee as they were putting the panel together. No alarm bells rang. My mind goes to the convener of that panel as he looked at the men taking their seats. No alarm bells rang. I wonder if anyone in the audience had any alarm bells ringing? Did anyone even ask about the panel make up? I doubt it.
These people should not be allowed to speak on behalf of evangelicals. Those of us who hold the Bible as the basis of our faith and life should not allow this Reformed faction to define what it means to be an evangelical. This is a faction who deny women a voice, who distort sexuality in all its forms, who misuse the Bible to shame those who are not like them, who espouse an alpha he-male version of masculinity that positions the testoterone-filled male above all others, and who deal with homosexuals in disgraceful ways.
I want to be known as an evangelical. I believe in the Bible, and I take it seriously. But I will not be lumped in with this version of it. This is shocking. And disturbing.
If you are a conservative Christian who is maybe battling with issues related to sexuality, please ask yourself whether you want to be aligned with the faction of the Christian church who would put together a panel on gender and fill it with old white men talking about sex. That can't be right, can it?