Just for fun.
My middle daughter, Hannah, is a real history buff (she wants to be an archeologist when she grows up). It helps to have a near perfect memory, so all the dates and names places easily lodge in her mind. But it also helps to have history made fresh, fun and interesting. This started with the "Horrible Histories" series (see the books and videos at Amazon.co.uk) – a kind of Monty Python show of historical facts. It's genius.
And now, I've found something else that looks astoundingly brilliant in concept. It's the history of the world as told through Facebook status updates. This is so clever. I've ordered the book (you can do so too at Amazon.co.uk or Kalahari.net or your favourite bookstore), and have seen some excerpts online. It's a pity, I think, that the author seems to have a penchant for foul language, but if you can look beyond that, there is some genius at work here.
My favourite so far is the interactions of the church with some key historical figures. Like these, for example: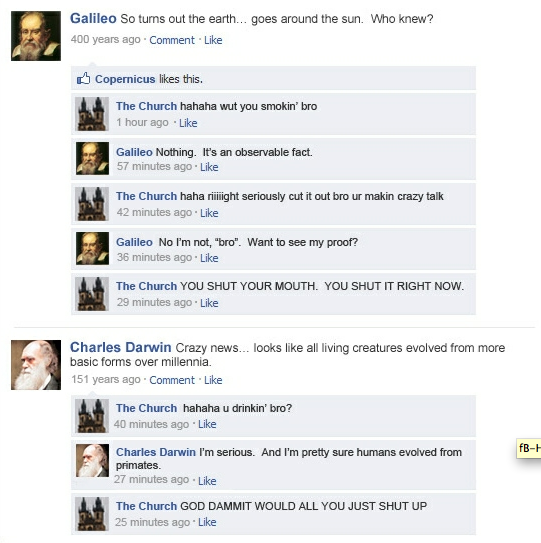 Here's another example. Very clever:
It won't teach you history, because the jokes are only there for those who know the history. But it will alert you to some history you might need to go and learn about.
Here's the book's Facebook page.
Thanks to Barrie Bramley for alerting me to this excellent concept.